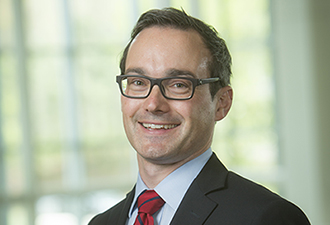 About Joseph Blocher
Faculty Co-Director and Lanty L. Smith '67 Professor Law. Blocher researches federal and state constitutional law, the First and Second Amendments, legal history, and property. His current scholarship addresses issues of gun rights and regulation, free speech, sovereignty, and refugee law. He has published dozens of articles on those topics and co-authored Free Speech Beyond Words (NYU Press, 2017) and The Positive Second Amendment: Rights, Regulation, and the Future of Heller (Cambridge University Press, 2018).
Posted by
Joseph Blocher
on July 12, 2019
I've been thinking and writing about the Second Amendment for a decade, but this past year was the first time I've ever actually taught a course on firearms law—a seminar called "Second Amendment: History, Theory, and Practice." The first three weeks covered some basic history and empirics, and an overview of the opinions in District […]
Posted by
Joseph Blocher
on June 28, 2019
Alexander Gouzoules has posted on SSRN an interesting new piece, "The Diverging Right(s) to Bear Arms: Private Armament and the Second and Fourteenth Amendments in Historical Context," which was just published in the Alabama Civil Rights & Civil Liberties Law Review. It is well worth a read for anyone interested in historical understandings of the […]
Posted by
Joseph Blocher
on June 24, 2019
WUNC's Adhiti Bandlamudi has a terrific new article called "On The Edge of Suburbia: Where Noise Pollution and Gun Rights Collide," which is part of the broader Guns & America series. (Darrell Miller and I were interviewed and are quoted in the story, but you should read it anyway.)
Posted by
Joseph Blocher
on June 20, 2019
Jake Charles' post yesterday noted that a great many foundational cases in the constitutional curriculum—Lopez, Printz, Curtiss-Wright, and Cruikshank, to name a few—involve gun laws. Of course, that doesn't mean that they're best understood as firearms law cases, or that the subject matter of the laws had much to do with the constitutional holdings (though […]
Posted by
Joseph Blocher
on June 5, 2019
In Heller, McDonald, and now potentially in NYSRPA, the Supreme Court established Second Amendment principles that have been the basis for more than 1,000 Second Amendment challenges in the past ten years. Notably, each of the Supreme Court's cases involved an outlier law—DC and Chicago were the only notable US cities with handgun bans, and […]
Posted by
Joseph Blocher
on May 31, 2019
Second Amendment scholarship has changed dramatically in its substance, style, diversity, and depth. Many elements of that transformation are hard to quantify, but others—including the sheer increase in volume—are more susceptible to rough-and-ready empirical snapshots.